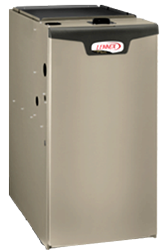 [h2]
Living in Amherst, NY and surrounding areas, you expect a lot from your heating system. It needs to handle long months of subzero temperatures, keep the home perfectly warm, operate reliably year after year, and operate efficiently.
Heating System Maintenance You Can Count On
The best way to make that happen is to call on O'Donnell Heating & Air Conditioning, Inc. for heating system maintenance. Let's set up a convenient appointment time in the fall and take care of all the necessary cleaning, tuning, and troubleshooting. The process is quick, cost-effective, and delivers results you can trust.
Give our team a call for all your heating service needs!
There's a very good reason why professional service is always a stipulation of manufacturer's warranty coverage. The efforts of our fully licensed, insured, and highly trained technicians minimize the chance of malfunction and safety risk, reduce running costs and sound levels, and optimize comfort and air quality. We take the very best care of your essential equipment. For all makes, models, and types of heating units, O'Donnell Heating & Air Conditioning, Inc. is the right choice for cost-effective service anywhere across Eggertsville, Amherst, Snyder, Williamsville, Buffalo, Tonawanda, Cheektowaga, Depew, and Lancaster, NY.

[h3]